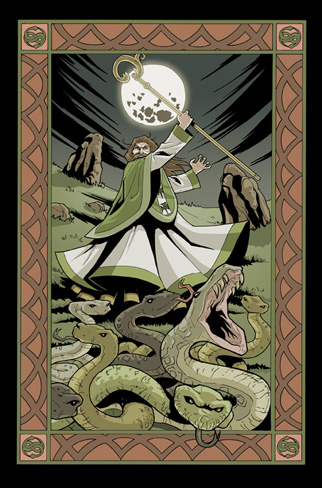 Mice Templar: Destiny #2
hit the shelves today. I contributed a couple of pin-up pieces in this issue (one of which is above-- sorry for it being so small, but Blogger isn't letting me upload images here for whatever reason), but most importantly, this issue features my husband Rod's debut as the new writer for the 'Myths & Legends' feature in the backs of each
Templar
issue. Definitely pick it up if you get a chance!
The book itself is a really great read (there's a reason it's been getting so much buzz!), and Bryan, Mike, Victor and Veronica do an incredible job. I was honored to be a part of this series, even in such a small way. Hats off to all of these guys!
Last night as I was drawing and working on stuff, I was half dreading today because it marks the second anniversary of Mike Wieringo's passing. Anyone who knows me knows what I thought of Mike and how much he has inspired me over the years, not only through his beautiful artwork, but as a human being. I don't think you could find a nicer guy in comics, and I wish I'd had the courage to get to know him better.
As I sat there trying not to really think too much, I was struck by the realization that back in June my first published work in years (my back-up story in
Perhapanauts
#6) was released on Mike's birthday... and my next published work (in
Mice Templar
) was released today, on the second anniversary of his passing. I don't know what that means, but it struck me that it was an odd coincidence there was another Mike connection there.
Newsarama had a really nice article up on Mike today, and I would like to share it:
http://blog.newsarama.com/2009/08/12/dial-h-for-history-remembering-mike-wieringo
That's all from me.